School Shows
One World One Sky (Big Birds Adventure)
Explore the night sky with your favorite friends from Sesame Street in Big Bird's Adventure: One World, One Sky. Follow along with Big Bird, Elmo, and their friend from China, Hu Hu Zhu, as they take you on a journey of discovery to learn about the Big Dipper, the North Star, the Sun, and the Moon.
Recommended for all ages through 2nd Grade & Special Needs
Perfect Little Planet
Imagine the ultimate space vacation! Discover our solar system through a new set of eyes – a family from another star system seeking the perfect vacation spot. Fly over the surface of Pluto, our best known Dwarf Planet. Dive over the ice cliffs of Miranda. Sail through the rings of Saturn. Feel the lightning storms of Jupiter. And walk on the surface of Mars. Which destination would you choose? A solar system journey for space travelers of all ages.
Recommended for Pre-K Through Upper Elementary & Special Needs
Sea Monsters: A Prehistoric Adventure
Stunning photo-realistic computer-generated animated transports audiences back to the Late Cretaceous, when a great inland sea divided North America in two. The film follows a curious and adventurous dolichorhynchops - familiarly known as a 'dolly' - as she travels through the most dangerous oceans in history. Along the way, she encounters long-necked plesiosaurs, giant turtles, enormous fish, fierce sharks, and the most dangerous sea monster of all, the mosasaur. Sea Monsters weaves together a series of paleontological digs from around the globe in a compelling story about scientists working as detectives to answer questions about this ancient and mysterious ocean world. Viewers accompany modern and historical fossil hunters to remote locations as they excavate the remains of some of the most awe-inspiring creatures of all time, unearthing amazing discoveries which shed light on exactly what happened to the film's incredible cast of characters. The fulldome adventure combines the powerful and experiential nature of the giant screen with strong science and educational materials which highlight the complexity and fragility of life in Earth's oceans, and a powerful multi-media launch plan. Merging ultra-high-resolution 3D graphics with National Geographic's trademark authenticity, compelling imagery and powerful storytelling, Sea Monsters is an unforgettable prehistoric adventure.
Recommended for Upper Elementary Through College
Dark
Dark is a fulldome movie that explains and explores the nature of Dark Matter, the missing 80% of the mass of the Universe. The search for Dark Matter is the most pressing astrophysical problem of our time – the solution to which will help us understand why the Universe is as it is, where it came from, and how it has evolved over billions of years – the unimaginable depths of deep time, of which a human life is but a flickering instant.
Recommended for Middle School, High School, and College
Life: A Cosmic Story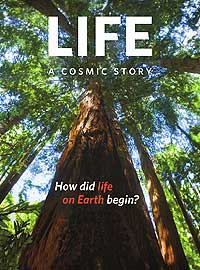 Life: A Cosmic Story begins in a redwood forest, with the sounds of wind and life. One redwood looms large, until we approach its branches and enter one of its leaves, adjusting our perspective to microscopic scales inside a cell. We see a pared-down version of its inner workings, learning about the process of photosynthesis and the role of DNA. This scene sets the stage for the story of life.
We then leap backward billions of years to the origin of elements themselves. The early Universe contained mostly dark matter, which drew hydrogen and helium together to form the first stars. The carbon and heavier elements required by living organisms came from generations of stars.
We continue our journey, diving into the Milky Way Galaxy of several billion years ago. We approach a region in which stars are forming, where we encounter a protoplanetary disk surrounding our newborn Sun. We arrive at the young Earth, splashing down in deep water to visit a hydrothermal vent and to examine the formation of organic molecules. We then travel above a volcanic island to encounter an enriched "hot puddle" of water, in which nucleotides (building blocks of RNA and DNA) may have wrapped themselves in protective vesicles.
Once life took hold, it radically changed our planet. Earth's early microorganisms created our oxygen atmosphere—and may have also triggered a global ice age, causing temperatures to drop precipitously and nearly freezing out life on our planet. We continue leaping forward in time, viewing the movement of continents and the changing environment for life, until we reach modern Earth.
We return home to look at Earth once more, circling the modern globe to review the evidence for the story we have heard. Much of what we understand about evolution we have pieced together from the fossil record, but we can also reassemble evolutionary history by studying life that surrounds us today.
All life shares a common ancestry and common chemistry, all related at the molecular level. As we learn this, we pull away from individual images of life, and we end the show as we see their three-dimensional distribution form the double-helix strand of DNA. The audience is left immersed inside a representation of the structure of life's shared origins.

http://www.youtube.com/watch?v=98e4pztACIo
Recommended for Middle School, High School, & College